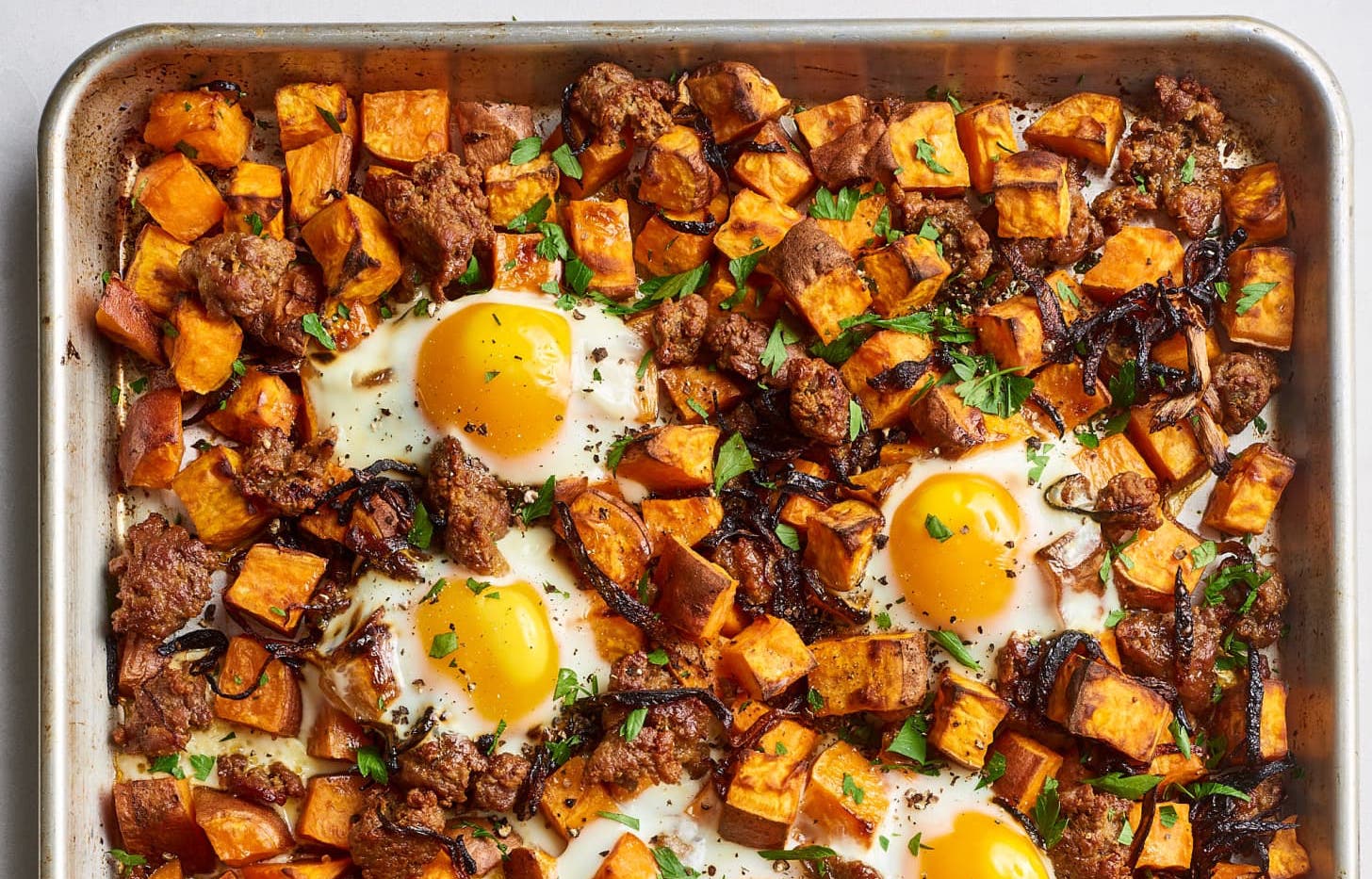 The Feast of Easter Recipes
At The Table, we celebrate Resurrection Sunday as The Feast of Easter. Feasting comes naturally to us as we congregate around a meal at every gathering. What better way to celebrate the gift of life than delicious food and good company?
Of course, due to the COVID-19 pandemic, this year is different. We are unable to meet together but that doesn't mean we are unable to feast!
We have gathered some of our favorite brunch recipes to share with you. You don't have to make a special trip to the store but gather what ingredients you do have and join us this Sunday as we feast from a distance!
Spiced Brioche Cinnamon Rolls (Sharon Lynch)
3 1/2 - 4 cups all-purpose flour, plus more if needed
1 packet Fleischmann's® Rapid Rise Yeast
1/2 teaspoon ground ginger
1/2 teaspoon kosher salt
3/4 cup warm whole milk
2 tablespoons honey
2 large eggs
6 tablespoons salted butter, at room temperature
SPICED SUGAR FILLING
½ cup light brown sugar, packed
2 teaspoons ground cinnamon
1 teaspoon ground ginger
1/4 teaspoon fresh ground nutmeg
½ cup (1 stick) salted butter, at room temperature, plus more for greasing
3 tablespoons molasses
CINNAMON BROWNED BUTTER FROSTING
6 tablespoons salted butter
4 ounces cream cheese at room temperature
1¼ cups confectioners' sugar
1/2 teaspoon ground cinnamon
2 teaspoons pure vanilla extract
Instructions
1. To make the dough. In the bowl of a stand mixer, combine 3 1/2 cups flour, the yeast, ginger, and salt. Add the warm milk, honey, eggs, and butter. Using the dough hook, mix until the flour is completely incorporated, about 4-5 minutes. If the dough seems sticky, add the remaining 1/4 cup to 1/2 cup of flour. Cover the bowl with plastic wrap and let sit at room temperature for 15 minutes or up to a few hours at room temperature.
2. Meanwhile, make the filling. In a small bowl, combine the brown sugar, ginger, cinnamon, and nutmeg. In a separate small bowl, mix together the butter and molasses. Line a 9x13 inch baking dish with parchment.
3. Lightly dust your work surface with flour. Turn out the dough, punch it down, and roll it into a rectangle about 10 x 16 inches. Spread the molasses butter evenly over the dough. Sprinkle the ginger sugar evenly over the butter and lightly push into the butter. Starting with the long edge closest to you, carefully roll the dough into a log, keeping it fairly tight as you go. When you reach the edge, pinch along the edge to seal. Using a sharp knife, cut into 12-15 rolls smaller rolls or 8 large rolls. Place the rolls into the prepared baking dish. Cover with plastic wrap and let rise 20-30 minutes.
4. Preheat the oven to 350 degrees F. Bake the rolls for 25 to 30 minutes, or until golden brown. For larger rolls, bake an additional 10 minutes.
5. Meanwhile, make the frosting. In a small saucepan, melt the butter over medium heat. Cook for about 5 minutes, until the butter is lightly browned and smells toasted. Immediately remove from the heat. Let cool.
6. In a medium bowl, beat together the cooled browned butter, cream cheese, confectioners' sugar, cinnamon, and vanilla until smooth. If the frosting is too thick for your liking, add a tablespoon of milk.
7. Spread the frosting over the warm rolls. Serve warm and enjoy.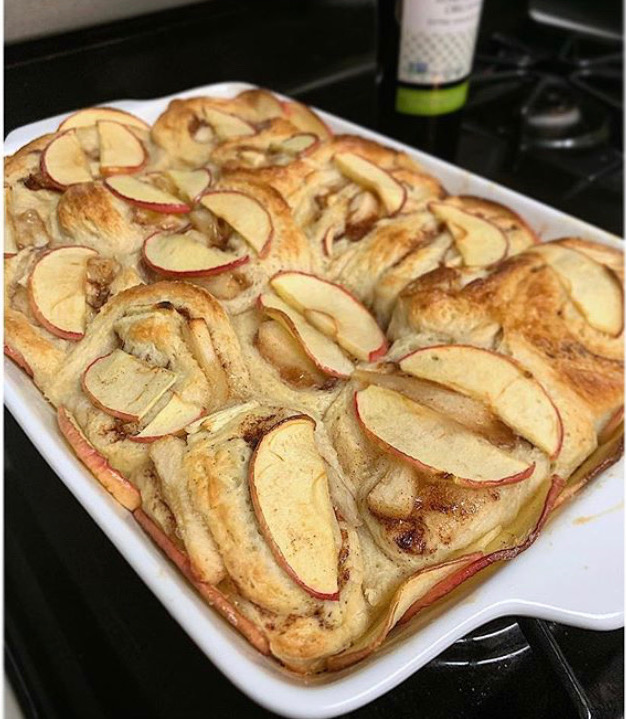 Dirty Diapers (Steve Shuler)
2 rolls of Pillsbury Crescent Rolls
8 oz cream cheese
2 pounds breakfast sausage
¼ cup maple syrup
Preheat oven to 350. Grease a 9x13 casserole dish and set aside.
Set a large skillet to medium heat on the stove. If the skillet is stainless steel, add 2 Tbsp oil; skip this step if you're using a nonstick or cast iron pan. Add the sausage to the skillet in small chunks. Cook the sausage, stirring occasionally and breaking up larger chunks with a wooden spoon, for about 10 minutes. When sausage is cooked through, remove from heat. Pour sausage into a colander and let the fat drain for two minutes.
Return the strained sausage to the pan and turn the heat to low. Add the cream cheese in large chunks. Stir frequently until cream cheese is well melted and incorporated, about 2 minutes. Add maple syrup and stir constantly for 2 minutes to keep the syrup from scorching. When all ingredients are well combined, remove skillet from heat and set aside.
Open and roll out 1 package of crescent rolls. Place the intact, unfolded rolls into the casserole dish. Bake in the oven for 6-8 minutes, until dough is slightly cooked on the outside and raw in the middle. Remove casserole dish from the stove. Pour the sausage combination onto the par-cooked dough and spread evenly. Open the second package of crescent rolls. Keeping the dough intact, layer on top of the sausage mixture. Return dish to the oven and bake for 10-15 minutes, until top pastry layer is golden brown. Remove from oven and serve.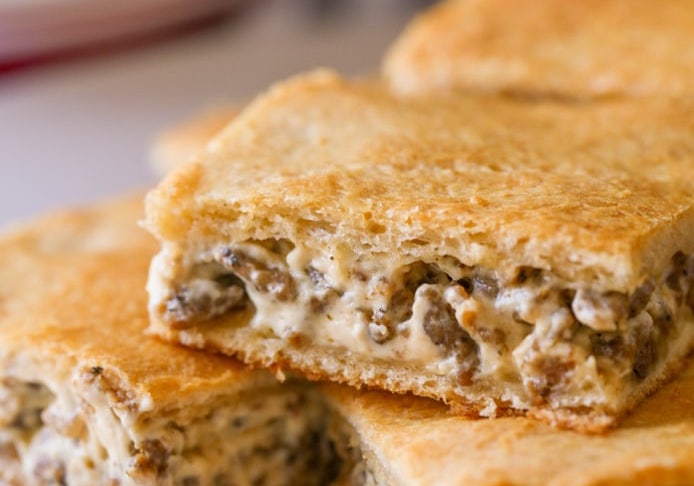 Vegan Banana Bread (Steve Shuler)
Note: This recipe is for a 9x5x3 inch loaf pan.
2/3 cup brown sugar
1/3 cup granulated sugar
3 medium very ripe bananas
½ cup canola oil + 2 tsp for greasing pan
1 tsp. vanilla
¼ cup oat milk
2 tsp apple cider vinegar
2 cups all-purpose flour
¾ tsp baking soda
½ tsp salt
Preheat oven to 350. Using a paper towel, lightly grease bottom and sides loaf pan with 2 tsp canola oil. Set loaf pan aside.
Using a large bowl or stand mixer, beat sugars, bananas and remaining canola oil until smooth. Add oat milk and vanilla and beat until incorporated. In a second bowl, sift the flour, baking soda and salt together. Add the banana mixture and stir with a fork to incorporate all the flour into the mixture. Do not over stir. Pour the mixture into the loaf pan.
Bake for 60-70 minutes until a toothpick inserted into the center of the loaf comes out clean. Remove pan from oven and let set for 5-10 minutes. Slide a thin knife down the sides of the pan to loosen the loaf, then remove the loaf from the pan and place on a cooling rack. Let cool completely, about 1 hour, before slicing and serving.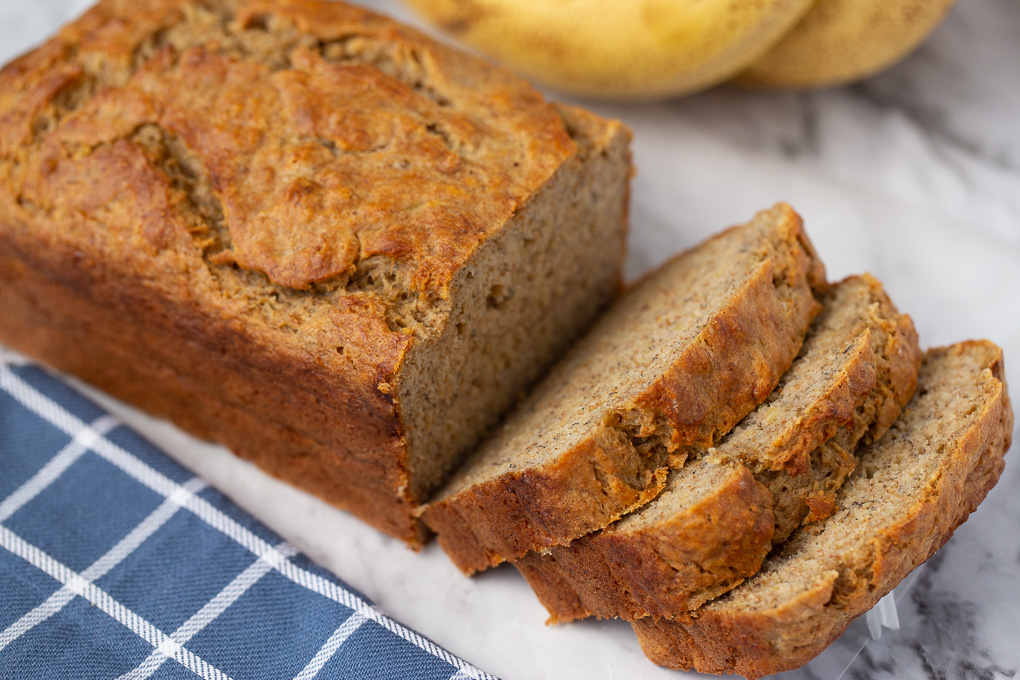 Additionally, the Gallups have been inspired by these recipes: